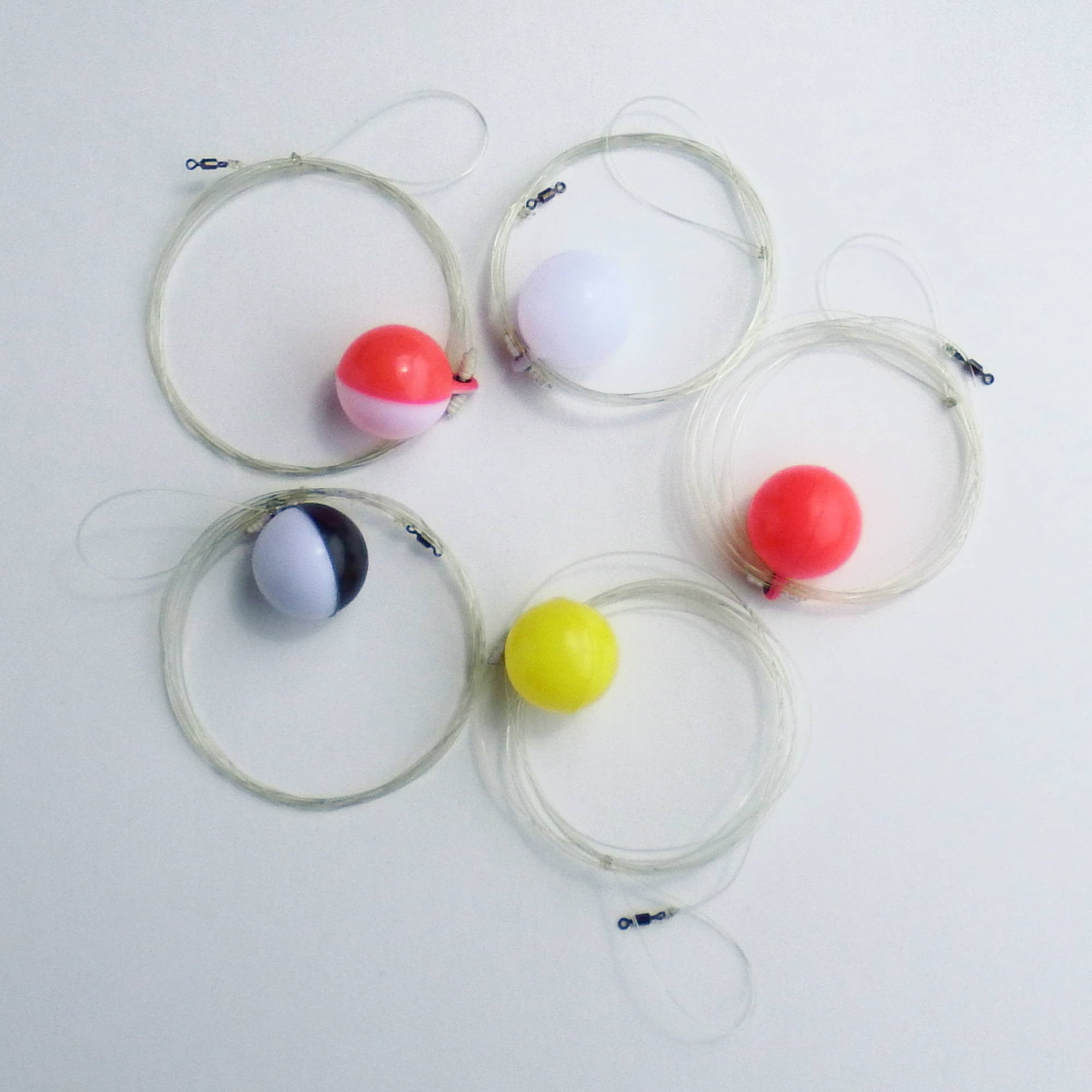 Leader Length – 4′
Thingamabobber Size – Medium (¾″)
Adjustable Thingamabobber Leaders
Get all the advantages of using Thingamabobber strike indicators without ruining your leaders.
Easily adjust the position of the Thingamabobber to effectively fish different depths.
Indicator spins freely around the leader to prevent twists.
Indicator does not damage or kink your leader. Quality Maxima monofilament for long life and durability.
No toothpicks, pegs, or rubber bands to lose.
Micro swivel for quick, easy, and strong rigging. Also further reduces leader twists.
Oversize butt loop allows the indicator to pass through for quick and easy loop-to-loop attachment of the leader to fly line.
USING ADJUSTABLE THINGAMABOBBER LEADERS
Attach approximately 3 to 4 feet of 6 to 10 pound monofilament to the swivel of your leader. This will be the front half of your leader. Then attach your tippet as you would with a conventional leader. Split shot should be placed above this connection. This will prevent your weight from slipping down to your flies.
This setup can be altered to suit the typical depths you will be fishing fishing. For deeper water, make the front half of your leader longer. Either add more monofilament in a stepped down fashion to accomodate lighter tippets or start with a longer piece of monofilament for the front section of your leader.
Indicator Adjustment
To adjust you indicator position, slide the pre-installed stops to the desired location. The Thingamabobber should be held in place by the stops but still spin freely around the leader.
We recommend adjusting the indicator so that the distance between it and your split shot (or flies if no extra weight is used) is equal to 1½ times the estimated depth of water. Make small adjustments until your flies are drifting as desired. Shorten the distance between indicator and weight if the flies are snagging the stream bottom too often.
FLAT RATE SHIPPING
We charge a small, flat rate shipping and handling fee for your entire order. Items usually ship within 1 business day. Transit time to US destinations is typically 1-3 business days for any USPS method.
USPS First-Class Parcel (Tracking) - $ 4.25
USPS Priority Mail (Tracking) - $ 10.00

International Customers (outside of USA)
International rates vary. Please add to cart and use the Shipping Calculator.
Any fees for duties and customs are your responsibility.
Buy With Confidence
We have a No Hassle Return Policy.
Have Questions?
Feel free to contact us at info@clearstreamflyfishing.com.
---
More from this collection